Recording Wist Lists and Quote Sales
For reports on wish lists and quotes, see here: Reports for Wish Lists and Quote Sales
Wish-List entries and Sales quotes are synonymous in VJS - some jewelers use them primarily to track items that the customer has expressed an interest in; others use them to track actual quotes or to make a note of a special price that the owner has pre-authorized for when the customer returns.
In both cases, they are recorded essentially as a sale and they even share the same sales ticket numbers, but they do not deduct items from stock and they do not put them on layaway. Neither are wish-list/quote sales layaway sales (which reduce the available-for-sale quantity and increase the on-layaway quantity.) However, wish-list/quote sales can be converted to sales - which is hopefully the goal!
Start by making a regular sale - with a customer and some Sku's and prices.
But instead of saving the sale the normal way (pressing Receipt or No receipt or Save) choose Options (at the top) then choose Save as Quote / Wish List.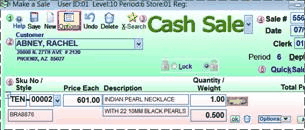 If you want to print a copy, do NOT choose the Print Receipt button as that will save it as an actual sale. Instead choose Options, Print a Quote Sheet / Wish List.
------------------
From the X-Search screen on the bottom left is a grid of sales - or you can click the tab to see any Wish List/Quotes.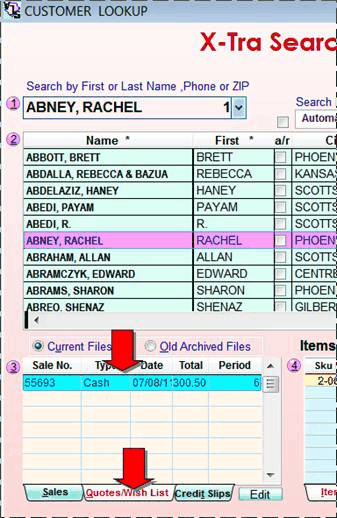 Wish List "sales" can be converted to real sales - and in fact we hope you do manage to convert many of them.
To convert them to an actual sale, you retrieve a wish list sale, then Save it as a real sale. Saving it converts it to a sale whether you choose Receipt, No Receipt or just Save.
To help prevent accidentally saving a wish list as a real sale be sure to NOT classify a wish list sale as Layaway. Instead classify it as Cash Sale.
That's because if you accidentally "save" a wish list Cash Sale, it will complain that the payments haven't been received. At that point you'd realize the situation and would re0save it as a wish list sale.
Any of these will commit the sale on-screen as an actual sale. Or, if you have a  quote /wish list on-screen it will convert it to a saved sale.
-> Print Receipt - which is short for Save and Print Receipt, and get ready for next ticket - new or old.
-> No Receipt - which is short for Save and don't print a receipt, and get ready for next ticket - new or old.
-> Save - which is short for Save and Don't print a receipt and exit the sales screen.
By contrast, if you retrieve a wish list sale to look at it or change it and you want to *keep* it as a Wish List / Quote sale, choose Options, Save as Wish List as with the original entry.
For reports on wish lists and quotes, see here: Reports for Wish Lists and Quote Sales