VJS has a feature which allows you to modify the Captions/Labels next to the fields on almost any screen within VJS.
By design this is a obscure feature that is not much publicized because it's rarely needed and it can make customer support awkward if the data is labeled differently and it can cause confusion to the user if data boxes don't behave quite the way the new label might suggest.
Nonetheless, if you realize the limitations, this provides an interesting way to customize VJS to better fit your store's operations.
Then open the Other Settings page in Preferences and check the new box to enable this feature.
To use this feature, press the Ctrl key on the keyboard while you Right-click a field - (e.g. the word Style) in the sample below.
You can then set an alternative word.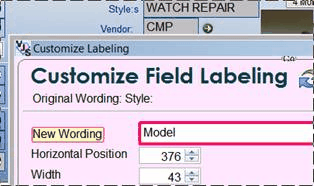 ...
In addition you can *hide* unnecessary fields (data boxes on various pages.
Ctrl-Right-click an unneeded text entry box and set the Security level to 11.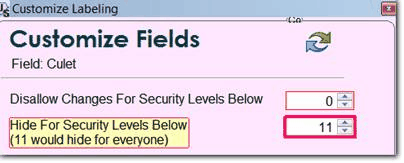 You can hide "captions" ("labels") by setting the New Wording to a blank.
...
If you need to see all original fields, right-click any box or label, choose Options, Disable All Changes on this Form. - Your customizations will not be lost - they will just be turned off temporarily, and you can re-enable the.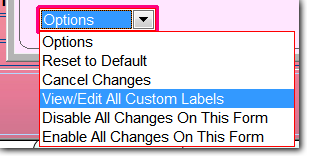 You can do the same thing for the Captions/Labels in the report screens.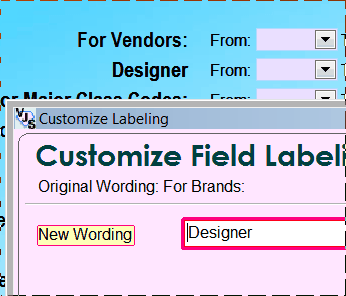 However, this does NOT change the wording for any column heading on the actual printed or displayed reports.
If you need the wordings change on the report layout to match your new customized on-screen labels, you would have to use the Report Designer and create a custom layout.
This help video is for  customizing appraisals but the same concepts apply to the reports, sales receipts, etc.
www.jewelryshopkeeper.com/help/vjs/manual/appraisal_video_instruction.htm