Manage Customer Alerts that Appear When Entering a Sale
From within Preferences, you can create pop-up alerts or messages that appear when you record customer sales.
These can be reminders to salespeople to ask customers questions or to inform customers of events. For example:
- Remind customers of a Gent's Night event
- Tell customers you carry a new line
- Ask customers if they have recently noticed your advertising recently
- Ask customers if they need parking validation
- Ask customers if they want to contribute to a charity drive
- Ask customers if they need a gift receipt or gift wrapping.
- Ask customers if you have their current address, phone and email
- Ask customers if they would like any jewelry item they are wearing to be cleaned
Etc.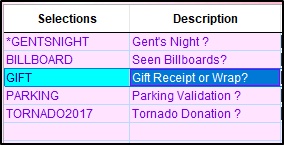 Using these alerts can improve customer service, learn more about customer awareness of your store, promote special events, increase add-on sales, etc.
The customer alerts described here, can be fine-tuned in a number of ways.
You can delete alert, suspend them, make them cancellable per customer (so you don't ask a customer the same question endlessly), make them
cancellable temporarily per customer (so they are suspended for a customer for a certain number of days.)
Instructions
To access the managed sales customer alerts, open Preferences from the Maintenance Menu,

then expand the General entry then open the Look-Up Lists entry.
Click the drop-down arrow by the Category selection box and select Pop-Up Messages for New Sales.

Then you can choose Add a New Row to add one or more alerts.
Each alert has a "shortcut" code and a brief description.
In most cases you will want to add a longer alert message, which you add at the bottom in the Text to Add box.

When you record a sale for the customer you would see an alert like this: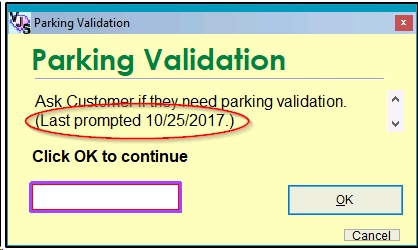 Note that the date of the last time this alert came up for this customer is shown. You can take this into account when talking to the customer for a more natural or suitable interaction.
Most messages will pop up every time the customer makes a purchase. However, if you add the word Cancel anywhere in your long prompt then the computer
user will have the option to choose Cancel
In this example for the Tornado Donation alert

The text includes the phrase "(Choose Cancel to stop this message)".
This way, when the sales person sees the message, if they click the Cancel button, then this alert will not re-appear later for this same customer.
(But it will appear for other customers.)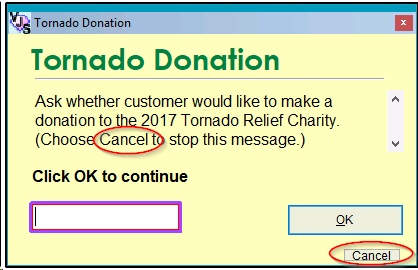 You can fine-tune this feature by making certain alerts re-activate after a certain amount of time.
In this example for a Billboard response measuring alert, the text includes the phrase "(Choose Cancel 60 to stop this message)."

If the sales person chooses Cancel when the alert appears, the message will not re-appear again for that customer for the next
60 days.
If you type Cancel 1, that would suspend the alert for the rest of the day after the first appearance, but would reappear the next day.
Cancel 30 would make the alert appear no more than once per 30 days for a single customer.
You can see the alert tracking notes which are added to the customer Notes. To view them, select the Notes tab on the customer profile page.
You could re-active canceled or suspended alerts by deleting those lines.
If you want to suspend an alert, but still leave it in the master list for future reference, add an asterisk (*) in front of the alert code.
Note that these alerts do not include a data collection or survey system. If you configure an alert to gauge advertising effectiveness, you would have to make your own notes. Those could be on a paper system, or you might use sales Dept Codes to track that, or you might add special Key Words in the customer comments.
Click here for instructions on tracking sales inpetus using Department Codes.
Click here for instructions on tracking customers with key words or with customer types.