How to Print a Single Tag or a Few Unrelated Tags
If you want to print all the tags received on one invoice, it's more efficient to retrieve that invoice from the Inventory Entry screen and choose Print Tags on that screen.
Or, if you want to print tags for all items in one major code or all items received on one date, use the Print Tags option from the Inventory Menu.
In VJS, open the Inventory Status screen, locate an item, click on the "Print a Tag" button on the bottom-right of the window to add that Sku to the list. If needed, locate the next Sku and again click "Print a Tag."
When done adding as many items as you need, click the "Print" button that appears when you click on Print a Tag.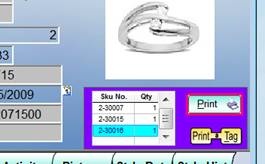 There's also a shortcut to bypass the orange/pink Start Printing Tags screen which is by clicking the middle mouse button on the "Print a Tag" icon. This works if you want just a single tag and also works if you have already added three items to the mini-list then Middle-click the "Print a Tag" icon after locating the the fourth Sku.
If you want to print tags for many miscellaneous items and want to work extra fast, there are keyboard shortcuts available:
Sku, Alt-T, F2, repeat
E.g.
Type a Sku,
Alt-T  to add to the list
F2 jumps back to the Sku Number box so you can select the next item in the list.