To do a physical inventory on just Pandora, go to Physical Inventory from the Inventory Menu.
Enter the list of what you have by style or Part Number.
B style you'd type the vendor code plus their style number and you'd want to check the Repast Mfg so you don't have to keep typing the vendor code.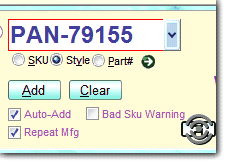 By Part # you could scan the Pandora EAN barcode if you have their barcode on the display case.

For multiples, you can either type/scan the item more than once or you can change the quantity in the grid .
Once you finish adding what you have, you choose Save then Run Exception Report,
Change the option to Physical Inv Exception by Part No. and choose just the Pandora vendor code.
This will give you a list of PROBLEMS.
To get the entire list of what you EXPECTED to have had yesterday, run either the regular inventory report for one vendor or run the Inventory Report by Style.