To install VJS on the server, the link below has an installation Visual Jewelry Shopkeeper (VJS)
Google shortcut:  http://goo.gl/LXEFs 
Use the installation password that you received at the time of your original purchase. Allow this to install to C:\VISUALJS
(If you can't download a new installer, on the new server run the (larger) installer program from the C:\VISUALJS\INSTALL folder - a file named something like INSTALLVJS.EXE.
At the Main (Server) computer and any workstations (other computer) *) 
Open the Windows Control Panel,
then "View Network Status and Tasks"
then "Advanced sharing settings"
> Turn ON network discovery
  > Turn ON File and Printer sharing
  > Turn OFF Password Protected Sharing
Then share this C:\VISUALJS (or D:\VISUALJS) folder on the new server giving all users (or the EVERYONE user ) read and write privileges. (and delete, update, create privileges etc if those are options.)
Open Computer (Explorer), the C: drive, right-click the VISUALJS folder and choose Sharing, then Share With and type the name Everyone when prompted and select Read/Write.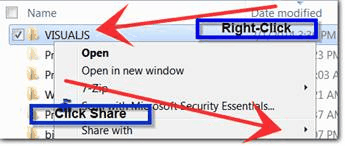 Add the "Everyone" name to the list of authorized people.
Set the new server and all workstations to the same Windows Workgroup name - e.g. WORKGROUP or MSHOME or ABCJEWELERS Right-Click Computer, choose Properties, click Change Settings, then Change