Open Preferences from the Maintenance Menu and add the word PDFX into the Miscellaneous Options box
and then Save.
Then, when you print an appraisal or report or a receipt, the Print Options box will have some extra options.
Select PDF as the File Type and check the Send to File box.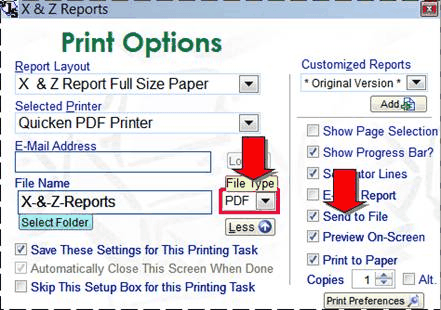 Then a PDF version of the report will be sent to, typically, the PDF folder inside the VJS REPORTS
folder which is on the Windows Desktop, you can verify or change the folder location by clicking on
the Select Folder button.
Then you can email that file, from, say Outlook
Technically you can also activate the email-within-VJS option. I.e. check the E-Mail report checkbox from the Print Options screen.
That will require a one-time setup in VJS to fill in the needed credentials to send mail via your email box.
For the settings we suggest you try either "Direct II" or "Mapi" or "Outlook" - see which works best for you.
However, you might want to first get comfortable creating the pdf file and emailing it separately.
Then once that's fine move on to both-in-one