Like regular inventory, you receive Memo items  via Inventory Entry.
Pick the Receive Memos tab instead of Receive Inventory and you'll see the "invoice" number is made to start with MEM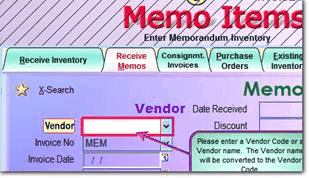 When you run inventory reports, you can include or separate memo inventory. (choose Full Selection to see this)

...
The usual way to move an item from a memo invoice to a real payable invoice is to Edit an invoice, click a line, click Options, Click Move to Another Invoice payable.
Note that if the original memo had a freight charge, you can check the box to transfer the freight from the memo to the new invoice payable.
...
Or, to convert an entire memo to an invoice payable, find the memo-invoice, then WITHOUT going into the item details grid, click the padlock to unlock the invoice number then you can change the memo/invoice number. - i.e. you would change it to an invoice number that does *not* start with MEM.
You can also change the invoice number on an individual item from the Inventory Status screen but this isn't preferred as it bypasses the invoices payable tracking Anyway, to do that, retrieve the item, unlock the padlock, the Ctrl-Click the invoice number.