On each computer, check your connection speed to the server computer
Choose Start >> Control Panel
Click on Network & Sharing Center:
At the top left, select Change Adapter Settings to reveal your Network Adapters (NICs)
The red X next to the Wi-Fi means this computer is not connected to a wi-fi router.
That's what VJS prefers; wireless is slow and unreliable!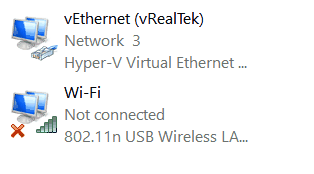 To see your connection speed, right click active adapter >> Status:
This shows this computer is connected at 1.0Gbps (1 Gigabit per second) or 1024 Megabits per second.
There are 8 bits on a byte, so data is flowing at approximately 128 Megabytes per second;
that's the best you can hope for right now!
...
Wi-fi speeds of 72.0 Mbps are common. For comparison, that's 9 Megabytes per second: