STEP 1: ENTER LICENSE & STORE NAME INFORMATION FOR MERCHANT WAREHOUSE PAYLINK
You must enter a License Key provided by Merchant Warehouse (Contact Merchant Warehouse support
at (800)498-0823 option 1 then option 2.)
The TOP PORTION (phone number and above) is required.
Click Activate when ready.
STEP 2: ENTER A USER FOR PAYLINK ADMINISTRATION:
Select the Admin Tab
In User ID: type "admin" and "password1" for the password.
If you choose another name and password combination, be sure to make a note of them down or remember them without fail. If you lose them you may have to reformat the computer in order to reinstall Paylink (really, no kidding!)
Choose Add This User and Apply
STEP 3: CREATE A NEW ACCOUNT FOR CONNECTING WITH MERCHANT WAREHOUSE SERVER
The User ID and Password must be provided by Merchant Warehouse must be typed here.
Note: This User ID is NOT the same User ID that you use for the on-line Merchant Warehouse Payment Gateway, AKA Virtual Terminal.
While this User ID will access the same account, the User ID used when accessing your account via Paylink / Transport is not the same as when you access your account directly via an Internet browswer.
Click Add This Account, Apply and Test Connection
ANY AND ALL PROBLEMS AND QUESTIONS ON THIS SCREEN SHOULD BE DIRECTED TO MERCHANT WAREHOUSE SUPPORT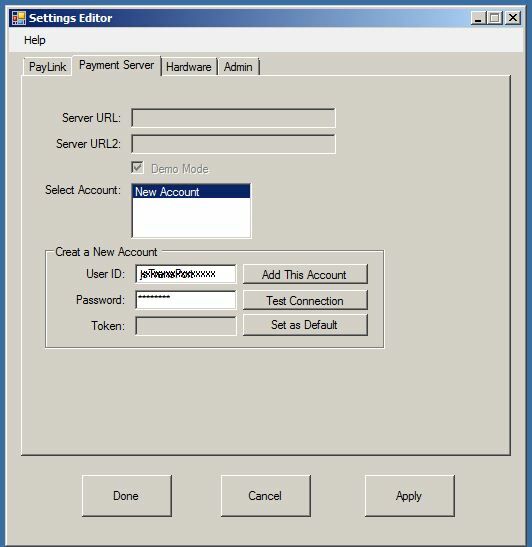 STEP 3b. Test your Merchant Warehouse PayLink Account.

Enter a test amount and a clerk name / initials, then
click on ProcessCard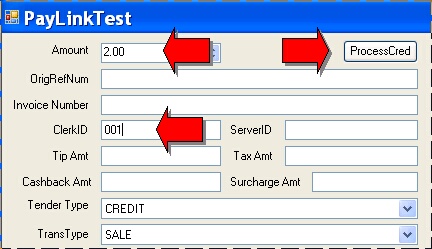 Then the Merchant Warehouse Processing screen should appear.
Here you will swipe the card, type the last 4 digits (in most cases)
and then click Process Securely. You can use a real card as you'll
void the transaction afterwards.
You can access your account via the Payment Gateway / Virtual Terminal
using your Internet browser and you can void this test payment.
STEP 4:
TELL VISUAL SHOPKEEPER YOU ARE READY TO START USING MW PAYLINK FOR CREDIT CARD AUTHORIZATION:
Only do this once you installed and configured PayLink - and have successfully run a test from within PayLink.
In Visual Shopkeeper Choose Maintenance > Preferences.

Find the click the + to the left of Payment Options.
In Credit Card Authorization Type, enter: MWSECURE1
Click SAVE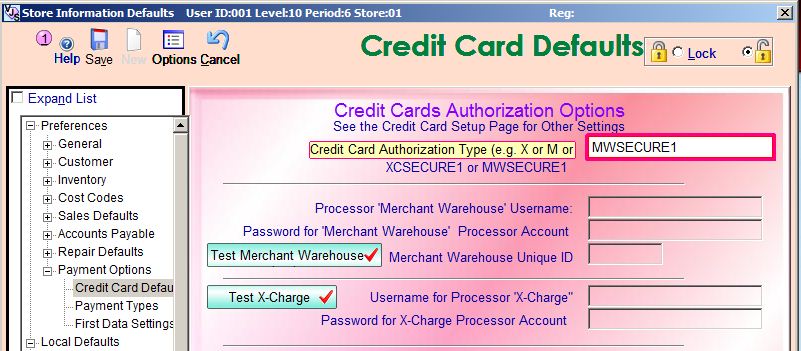 And / or in JS-Classic, open Store Information Defaults and page-down to page 18
and enter MWSECURE1 for the Credit Card Authorization Type