All Credit card processors require that point of sale software
be updated to meet new security requirements.
Here are instructions for updating Merchant-Warehouse to the Secure version
which is called "PayLink" and/or "Transport."
Paylink installation must be performed on all computers that need to process credit cards with Merchant Warehouse.
In order to use the Paylink program you must obtain a Paylink license key and Transport UserID and password from Merchant Warehouse.You must call the support number at (800)498-0823 option 1 then option 2.
Note: This User ID used by PayLink / Transport is NOT the same User ID that you use for the on-line Merchant Warehouse Payment Gateway, AKA Virtual Terminal. However, it will access the same account.
You should obtain the license key, userID and password before installing Paylink. Merchant Warehouse is in Boston, so the plan for east coast business hours.
You will be typing those numbers in these initial Paylink screen(s):
(But you won't see these screens until the Paylink Installation is nearly complete.)
-------------------------------------------------------------------
STEP 1: DOWNLOAD
Click here to download the MWpayLinkSetup.exe installation program (about 17 MEG.)
Make sure to save it to your computer, perhaps on your Windows Desktop or your usual download location. If you save it to a shared network folder then you will be able to access it from all computers (Since you'll need to install this on all computers which process credit card payments.)
The Transport / Paylink program requires certain Windows modules be previously installed. so, in most cases, before Paylink itself actually loads it will prompt you to load the ".NET Framework" ('dot net') and the Point of Sale Drivers for .NET.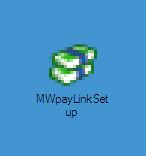 -------------------------------------------------------------------
STEP 2: INSTALL .NET FRAMEWORK 3.5
If your computer is running Windows Vista or Windows 7, you must right click the MWPayLinkSetup.exe program and select "Run as Administrator" each time you run one of the setup programs. Paylink will not install properly without selecting "Run as Administrator".
XP users do not have to right-click MWpaylinkSetup, a normal double-click is enough to work properly.
Select Allow (XP users will not see this screen):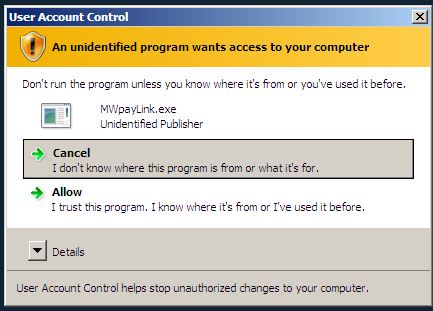 Select Yes: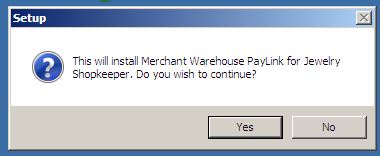 Select Next:
Select Install:
In many cases, Merchant Warehouse Paylink will prompt you to install the .NET Framework 3.5 SP1.
If your computer already has this framework installed, then the next prompt will likely be for the POS for .NET - see further below
Select Accept at this prompt:
Your computer will download the .NET Framework...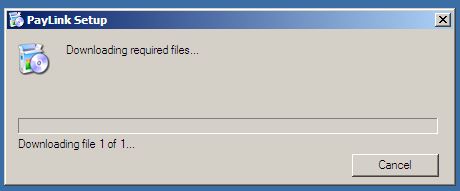 and begin installing it...
This step takes the longest. (perhaps 5 to 15 minutes)
Select Yes. You must reboot now.
STEP 4: INSTALL POSfor.NET
Select Continue: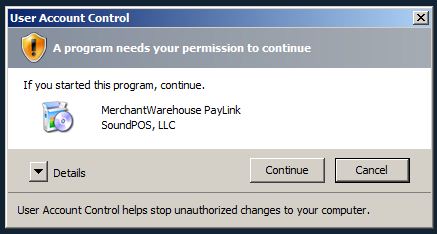 If you see this prompt below to download Point of Sale for .Net
Select No - Do Not Download!
(This is because a copy of the Point of Sales for .NET is already available on your Windows Desktop)
Instead, open the PosForDotNet folder on your desktop:
Double click the POSfor.NET program to begin installation:
(not the XML document with that name, the executable / installer file)

The POSfor.NET installation is much faster than the .NET Framework 3.5 installation.
...

STEP 5: Install Paylink / Transport Itself
On the Windows Desktop, open the folder "MerchantWarehousePayLink"
and run the file called Setup (or Setup.exe)
As before, if you have Windows Vista or Windows 7, right-click this file and choose
"Run as Administrator."
Select I Agree: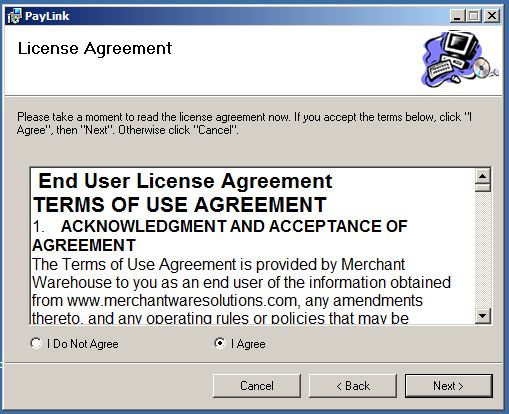 Select Next:
Select Finish:
click here for instructions on activating your Paylink account